Prize
Jackpot
Winning #

October 16 vs CV: Early bird prize #1

Calgary Wranglers Swag Package (Value: $200)

C-100000041

October 16 vs CV: Early bird prize #2

Four (4) tickets to a Calgary Wranglers 2022-23 regular season home game (Value: $150)

D-100082089
October 16 vs CV: Winning 50/50 Ticket
$3,215.00
B-100073777

October 17 vs CV: Early Bird prize #1

Calgary Wranglers Swag Package (Value: $200)

D-100000230

October 17 vs CV: Early Bird prize #2

Two (2) tickets to a Calgary Wranglers 2022-23 regular season home game (Value: $75)

D-100060910
October 17 vs CV: Winning 50/50 Ticket
$2,590.00
D-100061475

November 2 vs TC: Early Bird Prize

Two (2) tickets to a Calgary Wranglers 2022-23 regular season home game (Value: $75)

C-100090469
November 2 vs TC: Winning 50/50 Ticket
$2,210.00
C-100090665

November 4 vs TC: Early Bird Prize

Calgary Wranglers Swag Package (Value: $100)

C-100080653
November 4 vs TC: Winning 50/50 Ticket
$2,112.50
C-100051361

November 6 vs SJ: Early Bird Prize

Four (4) tickets to a Calgary Wranglers 2022-23 regular season home game (Value: $150)

C-100061771
November 6 vs SJ: Winning 50/50 Ticket
$2,637.50
C-100052550

November 8 vs SJ: Early Bird Prize

Early bird prize #1 at 8PM: Calgary Wranglers Swag Package (Value: $100)

C-100000074
November 8 vs SJ
$1,612.50
C-100000687

November 22 vs CV: Early Bird Prize

Early Bird Prize Draw #1 – Nov 22 – 8PM – 2 Tickets to a Wranglers 2022-23 regular season home game

D-100060300

November 22 vs CV
$2250
C-100071332

November 24 vs CV: Early Bird Prize:

Early bird prize #1 – Nov 24 at 8PM: Calgary Wranglers Swag Package (Value: $100)

D-100100906
November 24 vs CV
$2315
B-100081040

November 25 vs ABB: Early Bird Draw:

Early bird prize #1 Nov 25 at 2PM: Two (2) tickets to a Calgary Wranglers 2022-23 regular season home game (Value: $75)

C-100062661

November 25 vs ABB
$1935

C-100062530

November 27 vs ABB

Early bird prize #1 Nov 27 at 2PM: Four (4) tickets to a Calgary Wranglers 2022-23 regular season home game (Value: $150)

D-100001790

November 27 vs ABB

$4337.50

D-100073084

December 9 vs SD

Early Bird Prize 1 Dec 9th 8pm: Calgary Wranglers Swag Package (Value $100)

C-100081756
December 9 vs SD
$4070
C-100054665

December 11 vs SD

Early bird prize #1 Dec 11 at 2PM: Four (4) tickets to a Calgary Wranglers 2022-23 regular season home game (Value: $150)

C-100092077

December 11 vs SD
$3830
D-100053224

December 13 vs MB

Early bird prize #1 Dec 13 at 8PM: Calgary Wranglers Swag Package (Value: $100)

C-100051506
December 13 vs MB
$2,482.50

D-100061159

December 15 vs MB

Early bird prize #1 Dec 15 at 8PM: Two (2) tickets to a Calgary Wranglers 2022-23 regular season home game (Value: $75).

B-100081254
December 15 vs MB
$2,922.50

C-100060680

December 20 vs ONT

Early Bird Prize: Wranglers Swag Package (Value $100)

C-100080140
December 20 vs ONT
$2477.50
C-100111612

December 21 vs ONT

Early Bird Prize #1 8pm Dec 20 : 2 tickets to a Calgary Wranglers 2022-23 regular season home game (Value: $75)

C-100093483
December 21 vs ONT
$3,277.50

C-100085217

January 2 vs ABB

Early Bird Prize #1 – Calgary Wranglers Swag Package Jan 2 8pm

C-100073213
January 2 vs ABB
$4,162.50

D-100103745

January 4 vs ABB

Early bird prize #1 Jan 4 at 8PM: Two (2) tickets to a Calgary Wranglers 2022-23 regular season home game (Value: $75)

C-100054230
January 4 vs ABB

$2,220.00

C-100050952

January 8 vs BAK

Early bird prize #1 Jan 8 at 8PM: Two (2) tickets to a Calgary Wranglers 2022-23 regular season home game (Value: $75)

C-100079039
January 8 vs BAK
$5,357.50
C-100071398

January 10 vs BAK

Early bird prize #1 Jan 10 at 8PM: Two (2) tickets to a Calgary Wranglers 2022-23 regular season home game (Value: $75)

C-100052373
January 10 vs BAK
$2,345.00
D-100080330

January 24 vs ONT

Early bird prize #1 Jan 24 at 8PM: Two (2) tickets to a Calgary Wranglers 2022-23 regular season home game (Value: $75)

C-100060634
January 24 vs ONT
$1,892.50
C-100070672

January 25 vs ONT

Early bird prize #1 Jan 25 at 8PM: Two (2) tickets to a Calgary Wranglers 2022-23 regular season home game (Value: $75)

C-100072465
January 25 vs ONT
$2,112.50
C-100065275
February 2 vs BAK
$2,912.50
C-100092734
February 3 vs BAK
$7,195.00
C-100132604

February 14 vs ABB

Early bird prize #1 Feb 14th at 8PM: Two (2) tickets to a Calgary Wranglers 2022-23 regular season home game (Value: $75)

C-100100440
Prize
Jackpot
Winning #
February 14 vs ABB
$2,367.50

D-100101071

February 15 vs ABB

Early bird prize #1 Feb 15 at 8PM: Calgary Wranglers Swag Package (Value: $100)

C-100052890
February 15 vs ABB
$2,192.50

C-100052944

February 17 vs COL

Early bird prize #1 Feb 17th at 8PM: Two (2) tickets to a Calgary Wranglers 2022-23 regular season home game (Value: $75)

C-100100835
February 17 vs COL
$4317.50
D-100052741

February 19 vs COL

Early bird prize #1 Feb 19 at 8PM: Two (2) tickets to a Calgary Wranglers 2022-23 regular season home game (Value: $75)

C-100095648
February 19 vs COL
$5,745.00
D-100009835

February 22 vs HEN

Early bird prize #1 Feb 22 at 8PM: Calgary Wranglers Swag Package (Value: $100)

C-100121779
February 22 vs HEN
$2,340.00
D-100060327
February 23 vs HEN
$2,292.50
C-100101499

March 7 vs COL

Mar 7 8PM Early Bird: 4 tickets to a Calgary Wranglers 2022-23 regular season home game (Value: $150)

D-100053264

March 7 vs COL
$2,707.50

C-100052136

March 8 vs COL

Early bird prize #1 Mar 8 at 8PM: Four (4) tickets to a Calgary Wranglers 2022-23 regular season home game (Value: $150)

D-100061516
March 8 vs COL
$3,502.50
C-100065644

March 24 vs SD

Early bird prize #1 March 24 at 8PM: Four (4) tickets to a Calgary Wranglers 2022-23 regular season home game (Value: $150)

C-100071528
March 24 vs SD
$6,100.00
B-100071548

March 26 vs SD

Early Bird Prize # 1 Mar 26 at 8PM: Calgary Wranglers Swag Package (value $100).

C-100120291
March 26 vs SD
$6,007.50
D-100084687

March 29 vs HSK

Early bird prize #1 March 29 at 8PM: Calgary Wranglers Swag Package (Value: $100)

D-100063692
March 29 vs HSK
$3,435.00
D-100051150

March 31 vs HSK

Calgary Wranglers Swag Package (value $100)

D-100070663

March 31 vs HSK
$5,172.50
C-100071575
April 26 vs ABB
$21,577.00
C-100094990

April 28 vs ABB

7pm Early Bird Prize: Autographed Wranglers Jersey (Value: $136.50)

D-100013188

April 28 vs ABB

8pm Early Bird Prize: Autographed Wranglers Jersey (Value: $136.50)

D-100015500

April 28 vs ABB

9pm Early Bird Prize: 4 tickets to Cowboys Music Festival: Country Fest Featuring Dustin Lynch (Value: $200)

C-100019335

April 30 vs ABB- 11am Early Bird Draw

4 tickets to Cowboys Music Festival: Country Fest Featuring Dustin Lynch (Value: $200)

D-100070819

April 30 vs ABB- 12pm Early Bird Draw

$50 Marda Loop Barber Shop Gift Card

D-100105700

May 1 vs ABB- 11am Early Bird Draw

$100 Gift certificate to The Bank & Baron

D-100130553

May 1 vs ABB- 12pm Early Bird Draw

$100 Gift certificate to The TROP

C-100021040

May 3 vs ABB – 7pm Early Bird Draw

$100 Gift certificate to The Bank and Baron

D-100126044

May 3 vs ABB – 8pm Early Bird Draw

$100 Gift certificate to National

C-100146760

May 3 vs ABB – 9pm Early Bird Draw

$100 Gift certificate to The TROP

C-100140329

May 3 vs ABB

$16,887.50

C-100152943

May 5 vs ABB

Early Bird #1 Wranglers Jersey – 5pm (Value $136.50)

C-100001620

May 5 vs ABB

Early Bird #2 $100 Gift certificate to The Bank & Baron – 6 pm

C-100000745

May 5 vs ABB

Early Bird #3 $100 Gift certificate to The Trop – 7 pm

C-100000567

May 5 vs ABB

Early Bird #4 $100 Gift certificate to The Bank & Baron – 8 pm

C-100000271

May 5 vs ABB

Early Bird #5 $50 Gift certificate to the Marda Loop Barber Shop – 9 pm

C-100001888
May 5 vs ABB
$255.00
D-100001364
May 11 vs CV
$13,583.50
C-100110909

May 12 vs CV

Early Bird Prize #1 | May 12th at 8pm Wrangler Hoodie & Hat ($130 value)

C-100082715

May 12 vs CV

Early Bird Prize #2 | May 12th | Deadline: 9pm $100 Gift certificate to The Bank & Baron

C-100105118

May 15 vs CV

Early Bird Prize #1 | May 15th at 8pm Wranglers Jersey (Value: $130)

C-100012036

May 15 vs CV

Early Bird Prize #2 | May 15th | Deadline: 9pm $100 Gift certificate to The Bank & Baron

C-100047321

May 15 vs CV

$13,122.50
C-100171178

May 17 vs CV

Early Bird Prize #1 | May 17th | Deadline: 8pm $100 Gift certificate to The Bank & Baron

C-100002600

May 17 vs CV

Early Bird Prize #2 | May 17th | Deadline: 9pm $100 Gift certificate to The TROP

D-100014267
May 17 vs CV
$1,657.50
C-100013342
| Prize | Jackpot | Winning # |
| --- | --- | --- |
| May 19 vs CV | $2,707.50 | D-100009293 |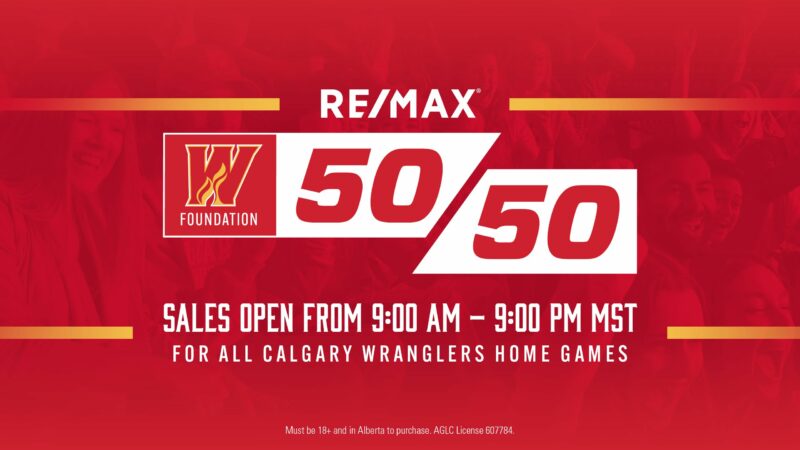 Online 50/50 Tickets Presented By REMAX
The Calgary Wranglers Foundation is excited to introduce the 50/50 draw presented by RE/MAX for all home games!
50/50 tickets will be available online from 9AM to 9PM MST on all Calgary Wranglers home games starting on October 16th 2022. Tickets will also be available for purchase during the game throughout the concourse at the Scotiabank Saddledome. In order to participate and purchase you must be in Alberta and 18 years of age or older.
The draw will take place at 9PM MST and the winning number will be posted on this webpage within an hour of the draw (by or before 9:59PM MST)
All tickets purchased for the Raffle prior to an Early Bird "Draw Closing Time" will be eligible to win that Early Bird Prize on the day of that Raffle and will automatically be entered into the draw for future Early Bird Prizes for this 50/50 Raffle Event. Any tickets purchased after the Early Bird cut off time are not eligible for the previous Early Bird Draws. All tickets purchased during the raffle are eligible for the grand prize draw.
The draw for 50% of the jackpot will take place as usual at 9 p.m. MT. Winners of early bird draws are still eligible for subsequent draws on the same date, including for the main prize (50% of the total jackpot).
The Calgary Wranglers Foundation is not responsible for lost or stolen printed 50/50 raffle tickets. We are unable to re-print or re-send printed raffle tickets purchased in venue.
For 50/50 information please e-mail wranglers5050@calgarywranglers.com or visit our Frequently Asked Questions.
Proceeds are directed to the Calgary Wranglers Foundation. The mandate of the Calgary Wranglers Foundation is to improve the lives of southern Albertans through support of health and wellness, education and grassroots sports programs.
Please note: You must be at least 18 years old to purchase tickets. Tickets must be sold and purchased only in Alberta.
AGLC License#: 607784